Tutorial: How to create a sandwich plate in Hydroman.
Goal
Creating different sandwich plates for modular use.
Steps
We start to design the schematic in Hydrosym. In this case we make a NG6 sandwich plate with a 2/2 solenoid valve to unload from P to T.
Open a new file and in the library go to Standards-> Cetop standards-> Cetop top pattern. Select the Sandwich top_Cetop03 and drag this into you schematic.

Go to Cetop counter pattern and select Sandwich _Cetop03. Drag this into your schematic.

In your schematic it will look like this.

The upper component is your sandwich valve side and the lower component is your block side.

Now insert your 2/2 solenoid valve. In this case a Argo Hytos SD1E-A2_H2S5.

Now start connecting your ports. P to P, A to A, B to B and T to T and port 1 from the solenoid valve to P and port 2 to T.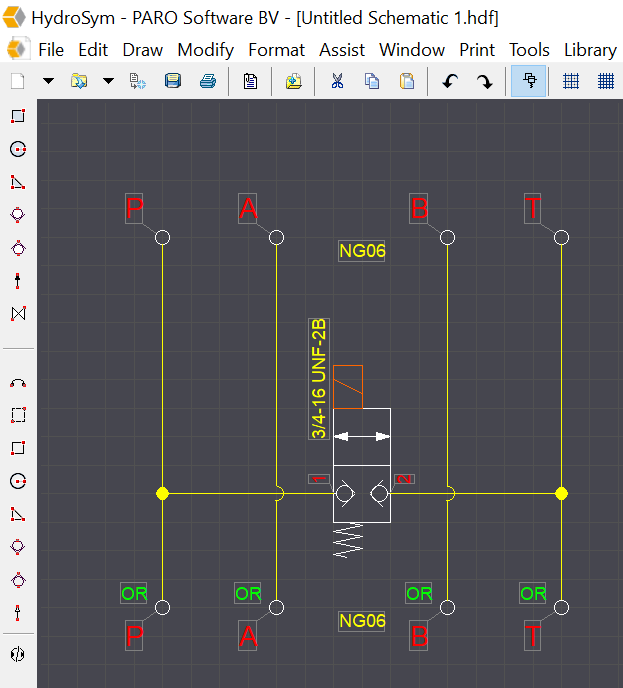 Select the i-border function(right mouse click) and draw it like this.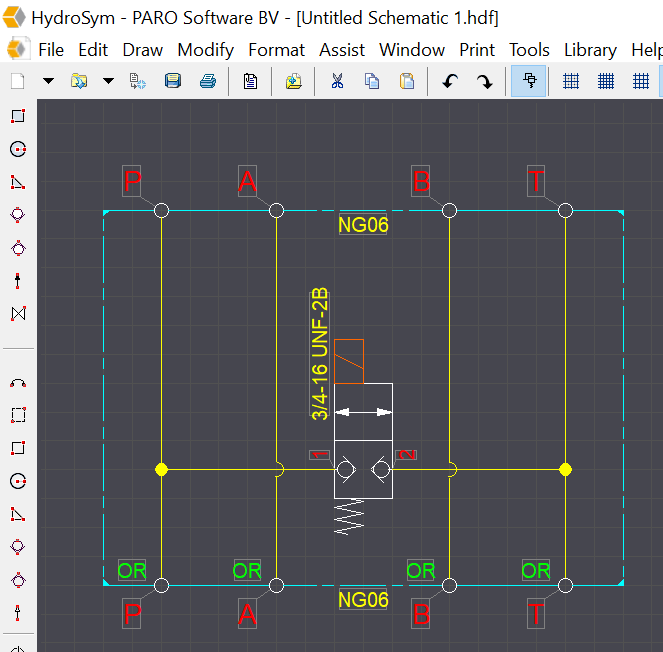 The i-border will indicate your manifold / sandwich plate.
Now select the p line and then the right mouse button and select

Do this also for the other groups A,B and T. For A and B for example working and for T Reservoir.

Before exporting your file must be saved.

Select the i-border and use the right mouse function and select Auto assign sub-groups in I-Border. Those groups will used in your manifold / sandwich plate.

On screen you not see any change in colors. If you switch to Sub groups with the button on the bottom of your screen you can see them. Press 2x on this button.

The schematic will look like this.

Select your i-border. Use the right mouse function and select Create Hydroman File…

You will see this window.

For more information also see the tutorial export to Hydroman on our website.

Tutorial: Export from Hydrosym to HydroMan

Press OK.

The Hydrosym file is exported to Hydroman and will look like this.

Here you see in face 1 the valve side on the left and on the block side. The 2/2 valve is positioned in face 2. This is a simple setup from where you can start to design you manifold. First drag your block side pattern to face 6 and be sure that P,T,A and are facing towards each other.

Select the P port in face 1 then the P port in face 6 and press the N key on your keyboard. Or use the right mouse function and select Match Coordinate.

The top and bottom pattern are now aligned.

Now you can start connecting your holes to each other and using construction holes to make the right connections. The final result for this block can look like this.
For the export to for example Solid works see
Tutorial: Export form Hydroman to Solid Works
This export is similar for all the other CAD programs which Hydroman supports.
To see the result for the created sandwich plate download the MNF file here NS6 sandwich plate.